How to use PhotoFiltre: Basic Functionality
Import formats and transparency
PhotoFiltre supports the most widespread formats, however transparency is available only for the following :
* GIF images
* PNG images in indexed colors mode
* Icons
If you defined a transparent color, the GIF format will be selected for you by default when you save.
Automation
The menu item "Tools / Automate / Batch" makes it possible to carry out a sequence of operations in an automatic way to a batch or a selection of files.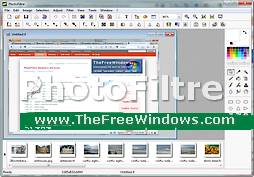 "Files" tab
* Select the files source and the output destination
* Select the export format
* You can rename the files in sequence (optional)
* A reduction of the number of colors and adjustment of image quality (depending on image output format) can also be made
* By checking "Custom selection", it's possible to carry out a manual selection of the images to be treated
"Image" tab
All the options are optional.
The option "Canvas size" is a little complex. It makes it possible to add blank space around your image by imposing a width and/or a height increase. The calculation of the width and height will be automatic if you leave a zero value (to add only one shade for example).
Cf. PhotoFiltre Hotkeys | PhotoFiltre Masks | PhotoFiltre Main Page