Download PhotoFiltre to browse and retouch your images
PhotoFiltre is a very fast, yet complete image retouching program and image viewer. If you wait an hour for PhotoShop  to open, just to resize a picture, or crop, or add some text, apply a common filter, etc, you can just use PhotoFiltre.
It allows you to do simple or advanced adjustments to an image, apply a vast range of filters on it, and it opens in a moment.
My main complaints are the lack of keyboard shortcuts from many commands, and the most annoying appearance of dialogues in the center, covering the opened image, even when there is a lot of space on the sides.
Instead of having us drag the dialogues on the side, PhotoFiltre should open them by default in empty spaces.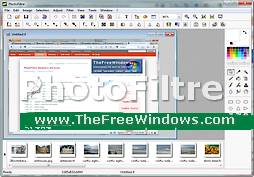 You can find the standard adjustment functions (Brightness, contrast, dyed, saturation, gamma correction) and also artistic filters (watercolor, pastels, Indian ink, pointillism, puzzle effect). There are more than 100 filters to be discovered! Other features : Image browser, Plug-in management, Scanning of images using a TWAIN compatible device (scanner, webcam, photocamera), Transparency management for GIF images and exporting them to icons (16, 256 or 16 millions of colors), Advanced text effects (rotation, shading, bevel), Several types of contours and textures, Blending and assembling of images, and more…
Please note that PhotoFiltre will install an ASK toolbar in Firefox or Internet Explorer, which can be uninstalled separately. To avoid this trouble, you can use the portable version of PhotoFiltre, distributed in a zip file.