Close all programs and windows instantly, and Shutdown or Restart, with Rapid Close
Rapid Close is a free (without limitations) utility that closes rapidly anything open, file explorer windows and programs. Note that programs are allowed to ask if you want to save unsaved work. They are not terminated, they won't be closed before you have a chance to save your work.
After everything is closed you are asked if you want to Shutdown or Restart your PC. If you initiated the whole process wanting to Restart Windows, you are asked if you want to Restart, otherwise you are asked if you want to Shutdown. You can select Yes or No. If you choose No, then you remain with Windows running, but with all your programs closed.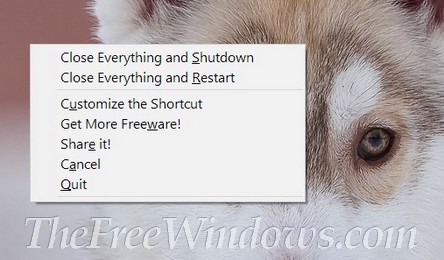 Especially if you normally work with a lot of open programs, utilities and explorer windows you will find Rapid Close a very convenient tool, saving you from a really boring task that you repeat daily.