Easy Shutdown, Restart, Log Off even on Windows 8
Windows Rule is a free and small, yet powerful and very convenient utility. It lets you handle the power of your computer easily, with your keyboard, your mouse, or your touch screen.
Windows Rule places its icon on the system tray (Windows XP or later), and optionally three Power tiles at the Start screen of Windows 8 and three Power buttons at the Windows XP/Vista/7 Start menu.
When setup finishes, locate the new tiles in the Programs of your Start screen, 'pin' them and move them to convenient places.
---
3 Simultaneous Control Modes  »  Shortcut Key, Right Click,  Metro Tiles / Menu buttons
---
When you are at the Start screen of Windows 8 you can use the Restart, Log Off and Shutdown Metro tiles that will be placed there by Windows Rule, if you decided to click the Power icon on your Desktop.
You can select the tiles with your keyboard, click on them with the mouse, or, if you are on a touch screen, press them with your fingers.
The same options will be available on the Start menu of Windows XP/Vista/7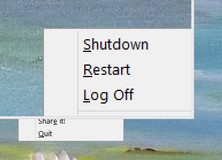 When you are on your Desktop (XP, Vista, 7 or Windows 8) you can right click on the red Power icon of Windows Rule at the system tray to execute an immediate Shutdown, Restart or Log off.
Power options can also be invoked by a keyboard shortcut.
The program comes with Ctrl+Alt+R as default shortcut, but you can change this with whatever combination you prefer, if it is not registered by other applications.
Another nice feature is that Windows Rule won't make a single change in the Windows registry, saving its simple settings in its folder (ini file). Note that you need Administrator rights in order to install Windows Rule.
Conclusion
A great little freeware you don't want to miss, especially if you are on Windows 8. If your keyboard has a NumPad check also the NumPad Transformer freeware. If you are not on Windows 8, Super Sleep gives you power options without Metro tiles.
To ensure a trouble-free installation, right-click the setup file and select the option "Run as administrator." You need also to make sure after the installation is complete, that the program folder and files have write permissions.