Inject Sharing Power to Internet Explorer, with Socializer
Socializer! for Internet Explorer is a light, safe and absolutely free addon ,you may download and install to Internet Explorer browser in order to easily share any web page on top social networks, including Facebook, Reddit, Twitter…, recommend it by eMail, with Google Plus, translate it automatically with Google Translator, get html links or shortened urls.
Socializer! won't add toolbars to your browser or dll files on your Windows system; it is a simple, unobtrusive, addon. Whenever you are on a page you'd like to share, just right click on it and from the context menu select the Socialize it! command. This will open the Sharing Panel to let you choose a service.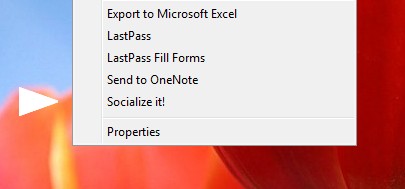 If you don't use Internet Explorer, you can enjoy similar functionality on Google Chrome, or on any other major browser using the Socializer! Bookmarklet — and: if you own yourself a web site or blog, get the Socializer! plugin for WordPress or the universal JavaScript Edition to help visitors of your pages share them.
[sociallocker]
[/sociallocker]