Using Microsoft Word: A powerful and gratifying book
You can use Microsoft Word to write a simple report, but its main purpose, where it shines and shows its abilities, is demanding tasks, such as writing a dissertation or any kind of complex books.
Steven Adams' nice priced Writing a book or thesis in Microsoft Word regards most important aspects of using MS Word as an advanced editor. The book will get you from being a moderate user of Word, and elevate you to a knew ground, revealing Word's power and making you able to take advantage of it.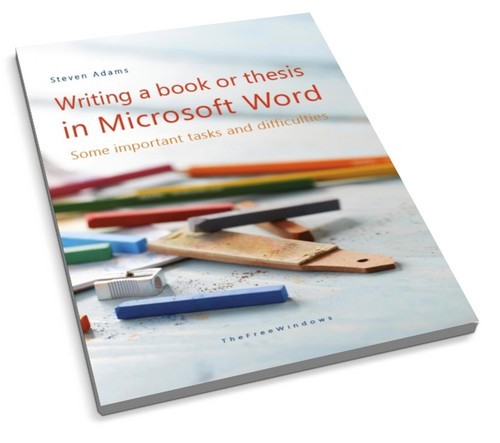 The book is written in a clear and precise language, without vagueness or ambiguity, full of examples, showing an awareness of the difficulties one may face using Word.
As the author summarizes, "everywhere emphasis is given to common mistakes and to ways of letting the program be effective, achieving easily tasks that may otherwise need a lot of time, especially when a document is large and complex."
"The purpose of this book is to help you find in Word a valuable tool instead of an obstacle", but beyond the utilitarian aspect, no matter how necessary, the author achieves also his other goal, to make you able to enjoy Word!
Being yourself an author or student you will perhaps appreciate especially this feature, that the very structure of the book will teach you how to work, because "the order of the main sections reflects the order an author may like to observe."
The book contains even chapters that deal with publishing, or how to use Word to prepare a document in a way that meets the demands of professional publishers such as Amazon.
Reading Steven Adams' Writing a book or thesis in Microsoft Word you are surprised realizing it makes you want to work — to think, write, use Word and be creative!
In my opinion this inspirational power of Adams' book is its most precious feature: reading it, I wanted to be productive, I wanted to use Word, and I knew how to do it best.
» Read more and look inside the book, to see the Table of Contents and more.
You can get the book from Amazon USA, UK, FR, DE, IT, ES. If you prefer it, a Kindle Version is also available.
---