Assembling your new PC yourself is easy, even the first time
As you may have noticed, it is important to be connected online, if it is the first time you build a PC; you will need to consult two or three videos.
For this job I used my Windows Laptop, since the old PC could do nothing more than wait for its components to be transferred to the new PC.
This time (3 years since the previous upgrade) I upgraded the motherboard, CPU and tower, keeping my Dell UltraSharp 2711 monitor [now changed with Dell U2713H], the Logitech G700 (now changed with a Logitech G602) mouse and my Wireless Bamboo keyboard [now replaced with a mechanical keyboard], the Graphics card, the PSU, the hard disks, the DVD drive and an additional NoiseBlocker Silent Fan which I added to the front side of the tower, below the one already provided by Fractal.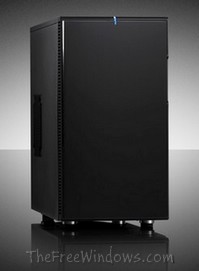 Although the tower hosts 5 fans — two at the front, one at the back, one at the bottom (the PSU fan) and one inside (the CPU fan) along with 4 hard disks (7 TB) — Fractal Define does a great job with noise, you have to be near the tower at night (in absolute silence) to hear a mild stream-in-spring sound, which is a great advantage along with the nice looks, ergonomic interior and a strong quality construction.
You may also like to know that this change of the core hardware elements, CPU and motherboard, caused no problem at all with my installation of Windows, existing on a drive that I transferred from the old PC (now changed with an SSD drive).
On first boot Windows needed a couple of minutes to understand and install everything. I didn't even use the software that came with the motherboard. Windows activation was also not damaged.