Change wallpapers automatically from several galleries, even on multiple monitors, with BackgroundBot
BackgroundBot is a free app that lets you change wallpapers automatically in intervals, even on a multiple monitor setup, having different wallpapers on each of your monitors.
BackgroundBot is easy to use, you don't need but to select the folders containing images that can be used as wallpapers, assign them to each of your monitors, define change interval, minimize the app to the system tray, and enjoy!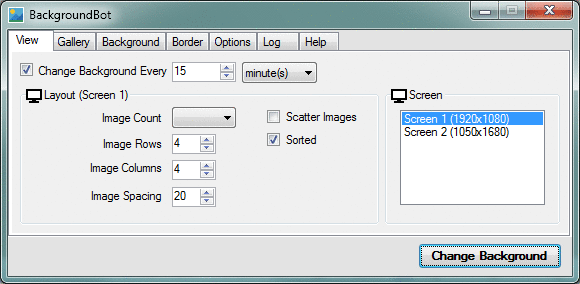 A nice feature of BackgroundBot is that it put as wallpaper not only a single image, but a "gallery" of images including several rows and columns. The background of such a wallpaper gallery, can be an image or a solid color. You can have distinct wallpaper galleries for each of your monitors.
Personally I miss only an option to change or remover or even delete a wallpaper using shortcut keys. Other than that, which you may not even be interested in, BackgroundBot is convenient, original, and efficient wallpaper manager.
[sociallocker]
[/sociallocker]