www.thefreewindows.com/xp-vista/index.php 5 Steps to change your Windows eXPerience safely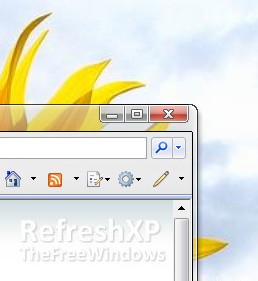 Welcome to RefreshXP!, a collection of safe freeware tools along with a Wizard made by TheFreeWindows to help you give a Vista/7 PLUS look to the Windows XP system, without risky changes of your system files.
This guide features a nice and clean customization of WindowsXP, without changing system files; it is meant to influence mainly the looks, but also some of the functionality. Windows Explorer in particular will gain new power - without hacking the Windows system.
Follow the steps of this guide to start customizing your Windows XP. You can stop any time safely, or skip a step and follow any other; each step is self-reliant and all changes can be reverted. Wallpapers are not included; you don't need a guide to change your wallpapers, and chances are you'd like to keep your nice collection of them. RefreshXP is only about essentials. If you use a Pentium 4 processor, or above, these changes won't slow down your computer.
All applications here featured are absolutely free, and checked for adware, spyware, etc. - Let's start!