www.thefreewindows.com/xp-vista/default.asp 5 Steps to change your Windows eXPerience safely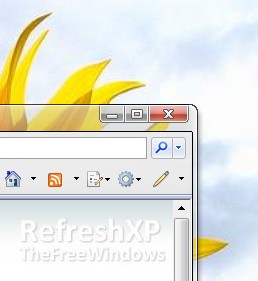 Step 5: Let there be Transparency in Captions and Frames!
Unless you are a big fan of black, you are going to like this effect. Just have a look at the screenshot to see in action the transparency we are speaking about. You can also disable it for a while to enjoy a black dominance, and then enable it again. Windows TaskBar does not change (it needs a different tool, we saw before, in order to become as transparent as you want it to be).
You need to download an application that will provide transparency for captions and frames, along with a shadow effect at the right and bottom frames of the windows you open. You will also have the option of selecting between different modes of transparency and shadows. However, this is the only application that may cause some annoyances. A serious one is with MS Office 2007, which doesn't follow the general Windows theme but uses instead its own skin; the menus (toolbars) of Office applications become almost unusable, but fortunately TrueTransparency includes an Exception List, where you can add this and whatever programs face problems.
Please note: If you don't want the "Aero"/Transparency effect, and/or if you prefer the Office 2007 look, you can download the Office 2007 Theme for Windows XP.
This is the end of TheFreeWindows RefreshXP Guide. We wanted to upgrade the looks of an XP system without messing with system files. There exist packages that perform deep system changes in order to bring XP even closer to Vista, reaching to the point of being ridiculous (as, for example, when you have a logon "Welcome to Windows Vista"!, when you know that you use XP). What we have done in this guide is, I hope, of good taste, and it certainly can be reverted easily, safely and completely, bringing you back your system intact, just in case you face even small problems or you don't want the changes. - Enjoy!